(See related photos at end of newsletter.)

Greetings! The year 2020 has been challenging and difficult for so many. Our prayer for you all is that, in the midst of everything, you will know Father God's love for you in deeper ways.
"Yes, we will follow Your ways, Lord Yahweh, and entwine our hearts with Yours, for the fame of Your name is all that we desire." (Isaiah 26:8 TPT)
* * *

COVID-19
The situation with COVID-19 was serious in Bluefields for a few months. The hospital was full, and there was a daily death toll. It was heartbreaking. Everybody knew someone who died. But then the curve flattened, and there was nobody in the hospital anymore!
Since then, the numbers have risen again, but nothing like before. Businesses have reopened with precautions, and children are back in school. On the downside, the economy has dropped to a new low, while crime and violence have increased.

* * *
The Scholarship Program
Thanks to everyone who has already given for the 2021 school year! We have delayed promoting the Scholarship Program because of uncertainty around the virus situation. But the children are back in school now, and plans for 2021 are moving ahead.
If you have not renewed your sponsorship(s), now is the time to renew. Or, if you have never sponsored students but would like to, you can do so for $80 per student. That covers the cost of sending a child to school for an entire year, including their school supplies, school uniform, and backpack. (And for those in college, it includes the fees charged by the school.) In turn, you will receive a photo and a letter from your child.
Here is a quote from one of the Scholarship Program students, an 11-year-old boy: "I always have you in my prayers, and I am thankful with my whole heart for your good heart."
* * *
Orlando ... "Best Scientific Investigation in the Nation"
We are so very proud of Orlando, who is a leader on our staff! As a nurse working in the mental health clinic, he was asked to present a scientific investigation. So, after presenting his thesis on Biosecurity Methods—which had won "best thesis" in Bluefields—he was chosen to compete in Managua, the capital, at the National Scientific Activity of Health Workers.
The competition included other healthcare workers, even doctors and specialists. He shared the work he had done to improve biosecurity in healthcare in the remote communities. And ... he came away with the prize for "Best Scientific Investigation in the Nation"!
* * *
Mercy Ministry
During these difficult times, we have been able to reach out with God's love to the needy through Mercy Ministry. Some of the needs we've been able to meet through your donations include:
• Helped with seriously needed dental work for one of our leaders
• Medical care for COVID-19 patients, for Baby Lisliana, and for Ramón, who has a heart condition
• Food packages for the needy during this crisis
• Personal Protective Equipment (PPE)

Ramón needs two big miracles. He is one of our teen helpers and—as noted above—he was born with a heart condition. He's living with his sister and grandmother in abject poverty. (His mother died years ago.)
So, Ramón has two huge needs:
1) He is too weak to get out of bed because of his heart. However, the heart operation that he most likely needs is not available anywhere in Nicaragua—even in the capital. In the past, medical teams with cardiac specialists would come from the States, but now they are not coming because of COVID-19. Ramón needs a miracle! They have friends in Costa Rica and are investigating whether he could go there for an operation. Please pray for Ramón! -- for healing for his heart, for God's wisdom about what to do, and for His provision as well.
2) The house where Ramón lives is a tiny wooden shack that is falling apart ... and in danger of falling down completely. That's no exaggeration! One day during bad weather, they were so afraid that they took refuge temporarily in a neighbor's house.
* * *
CHRISTMAS Is Coming
It will not look like other years. Sadly, there won't be a Christmas party for the kids because of COVID-19. However, we do want to show the children that, through it all, they are still loved and not forgotten ... by Father God, or by us!
We would like to give them Christmas food packages for their families, along with a gift and a Christmas Bible activity to do at home. We need at least $4,000 to cover all of this. Any amount you can give would be appreciated! May God bless you.
* * *
Important - About the Giving Links
The giving links on the International Accelerated Missions (IAM) website have changed. So, if you still have an old response card with the link information for using a credit card, please discard it and, instead, use the new info below.
PayPal also changed, but our website has now been updated with the correct PayPal links. Thank you.
* * *
Many blessings,
- Revs. Brad and Ruth Brown
"Love never fails." I Corinthians 13:8

Find Us on Facebook
Our facebook page is Father Heart Missions. Check it out!... www.facebook.com/FHmissions



Prayer Requests and Praise
(Why not take a moment to pray right now?)
| | |
| --- | --- |
| | PRAISE GOD for Orlando's success with his scientific investigation. |
| | PLEASE PRAY for our leaders, for strength and wisdom to lead. (Orlando, Mayela, Aaron, Sergio, Pastor Ed, and us!) |
| | PLEASE PRAY for Ramón's health and medical care, and for his house. |
| | PLEASE PRAY for provision for Mercy Ministry needs, Christmas, and the Scholarship Program. |

How to Give:
*** FIRST, be sure to read the important update in red above. ***
To give to a specific cause, such as Christmas, Send a Child to School ($80 per student), Mercy Ministries, or "where needed most": after making your donation (options 1/2/3 below), drop us a line at thebrowns@fatherheartmissions.com and let us know what category it was for.
1.) To give by credit card:,
| | |
| --- | --- |
| | Go to IAM's Support Page and click on the words "Click Here." |
| | On the left-hand side, click on "Support a Missionary." |
| | Select "The Browns Bundle." |
| | On the right-hand side, choose your designation: Bluefields Mercy Ministry (helps those in need), Bradley and Ruth Brown (this goes to operating expenses, salaries, etc.), The Father Heart Youth Center (includes feeding program and Christmas), or The Scholarship Program. |
| | Then press Continue. |
| | If you need more information or help with this Giving Page, please call the IAM office during business hours at (518) 872-0987. |
2.) To give by PayPal, go to the Home page of this website by clicking the "Home" button. Then click the How Can I Help? button. Follow the simple directions to donate securely online.
3.) To give by check, write the check payable to International Accelerated Missions and mail to:
International Accelerated Missions
114 Rock Rd.
Berne, NY 12023
(Please enclose a note in the envelope saying, "For Brad & Ruth Brown," and for what designation—Christmas, Mercy Ministries, Send a Child to School ($80), Youth Center, Other, or Where Needed Most -- but do not write in the memo section of your check.)

GE Employees and Retirees can participate in the Matching Gifts Program in their giving. Call the IAM office for details at (518) 872-0987, and be sure to say it is for Brad and Ruth Brown in Nicaragua.

Thank you!


Recent Ministry Photos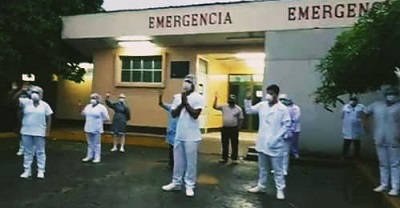 Medical Workers Praying Outside Bluefields Hospital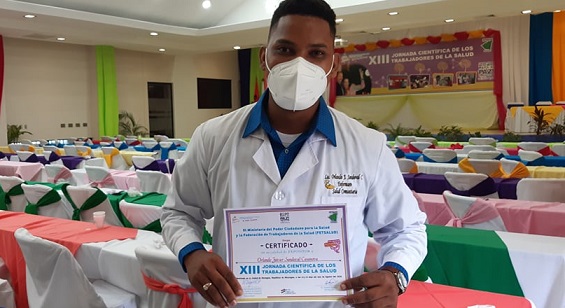 Orlando with his certificate: Best Healthcare Scientific Investigation in the Nation!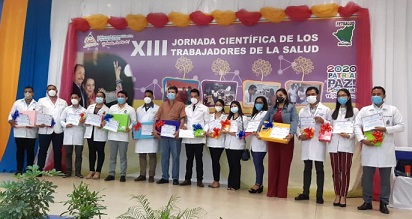 Orlando with Medical Professionals (Doctors, Specialists, Nurses) at the National
Scientific Convention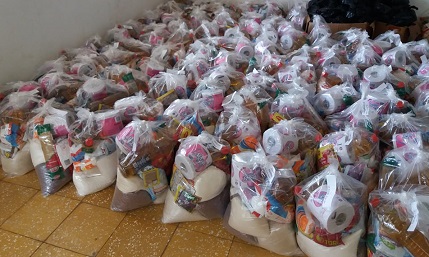 Food Packages for the Needy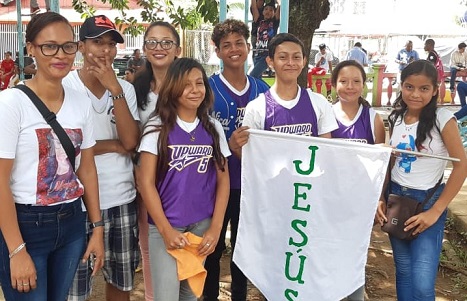 Ramón (holding the Jesus flag) in Better Days, with His Friends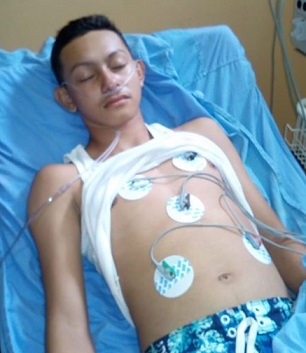 Ramón Now, in Delicate Condition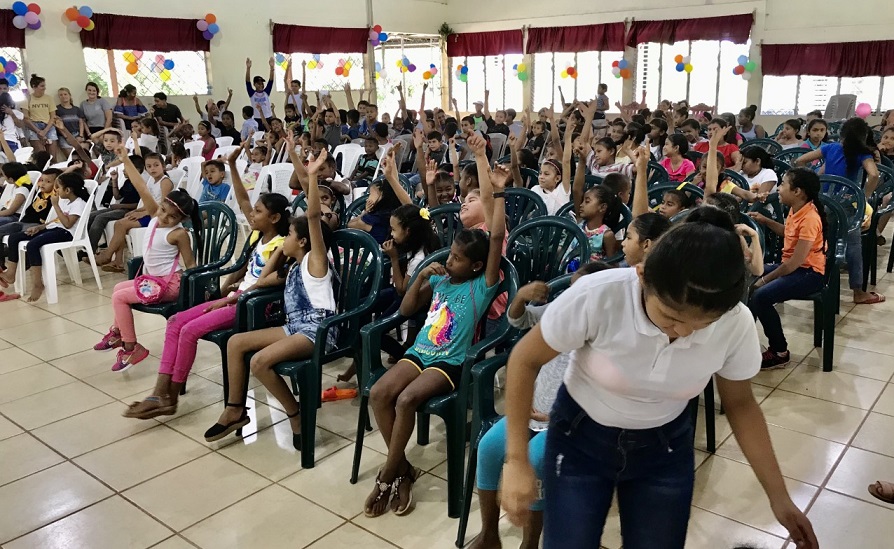 Last Year's Christmas party at the Youth Center
We cannot have it this year, but we want to bless the children in some way.